In 2018, derived from a citizen complaint, the organization Los Supercívicos documented that the pharmaceutical chain Farmacias del Ahorro had a systematic practice at the national level that consisted of felling trees with the aim of building parking spaces at the entrance of its branches, it was recorded that more than 1,809 trees had been felled nationwide. For this reason, Los Supercívicos, together with TOJIL and MCCI, denounced the felling of 103 trees in the Mexico City branches and a possible corruption scheme of this modus operandi before the Mexico City Attorney General's Office.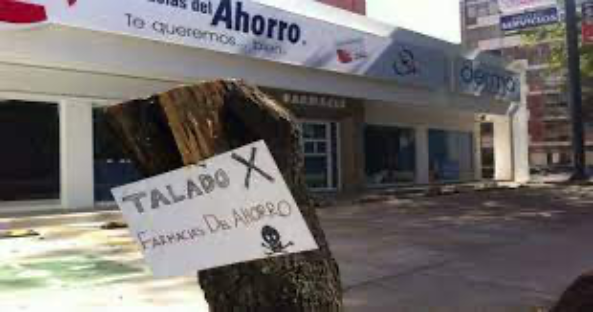 In this case we achieved a historic resolution that recognizes us as a victim during the criminal proceedings against the pharmaceutical company, for which reason we now collaborate hand in hand with the CDMX General Prosecutor's Office in clarifying the facts and their investigation, to ensure that This is not another case of impunity.
The organizations requested to have the status of victim to be able to participate and collaborate with the Public Ministry in the investigation, however, the CDMX General Prosecutor's Office refused to recognize this status. Therefore, they went to a public hearing before a control judge to combat this determination. In it, the judge agreed with the organizations and revoked the determination of the prosecutors and ordered that they be recognized as victims, especially for the crime of felling trees.
Based on this, the organizations are collaborating in the investigation and providing evidence that has turned out to be key pieces for the process. In the investigations it was discovered that Farmacias del Ahorro could be acting in collaboration with another company to fell the trees, which has the same representatives and managers.
Currently the case is still ongoing before a federal court that must rule on the prescription or not of the crimes committed by the pharmaceutical company. If a ruling against Farmacias del Ahorro is achieved, one of the first precedents at the national level would be generated in which a company is charged with criminal responsibility for an environmental crime, which, in addition, would be obliged to repair the damage to society and , on the other hand, would prevent these behaviors from continuing to be perpetuated.
In a country where 99% of reported crimes go unpunished, it is most likely that an accusation of this type, against a powerful company like Farmacias del Ahorro, would have been dismissed through bribery. However, citizen participation has allowed a completely different story to be told.